Up until this past year, the Salute to Service apparel was only available to men.  Last year, they had women's Salute to Service hoodies and tee shirts but we weren't very impressed with the design (especially the lame hoody design).  In 2017, Nike has stepped it up a notch and has come out with military tribute apparel that is not only patriotic but also sporty and with a feminine touch of fashion.  They will also be releasing kids Salute to Service hoodies and tee shirts, but we have yet to see Nike's design for them.  Stay tuned and we will showcase the kids gear as soon as possible.  Listed below are Online retailers who carry women's Salute to Service and NFL apparel in sizes ranging from small to women's plus size 4X.
FTC Disclaimer : We do not receive ANY compensation for clicks. We only receive a small commission if a sale is made. All of our opinions are our own. We review dozen's of retailers who sell Alabama gear. It is of our opinion that the stores listed below are the best for plus size Alabama apparel, along with consumer friendly store policies.
Stores Who Carry Women's 2017 Salute to Service and NFL Plus Size Apparel
Here is a view of the back of the hoodies where you can see the United States flag and commemorative ribbon patches embroidered on the sleeves.
We really like how U.S.A. is proudly visible across the back of the hoodie as well as the commemorative flag and ribbon patches on the sleeves.  In the Salute to Service Hoodie shown below you can see the American Flag and Veteran's tribute patches on the sleeve :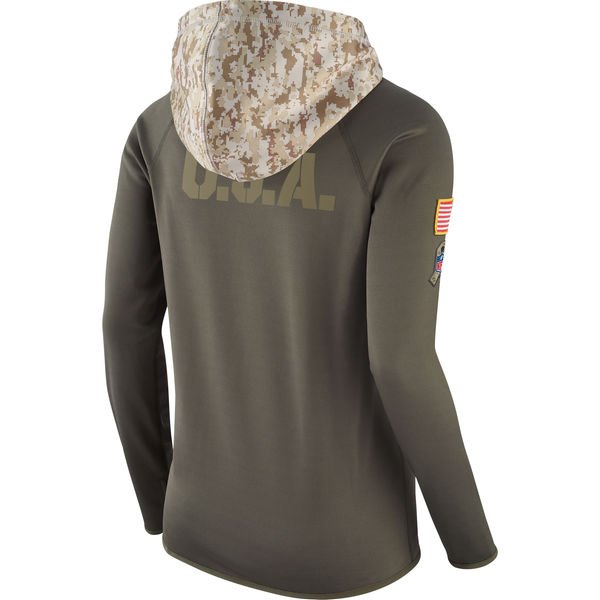 There are quite a few that sell Nike's Salute to Service apparel, but many of them have sold out of their inventories very quickly in the past, especially in plus sizes.  The retailer's shown below have the largest selection of women's NFL apparel that we have found.  Perhaps a few may be familiar to you, because these are huge online retailers that are very reliable and secure.
Fans Edge Sports
Store policies :
Return policy – 1 Year.  Salute to Service are limited edition items and you can't put your purchase on hold when apparel runs out very quickly.  A 1 year return policy is fantastic for those who want to make a purchase and put it in a closet for a spell until an upcoming birthday or the Holiday season.
Delivery fee – $4.99 flat rate shipping for U.S. orders.  If the order is being shipped overseas the shipping fees are :
Canada – $14.95 (4-10 days for shipment to arrive)
European Union (28 Countries) – $24.95 (4-10 days for expedited delivery)
Australia – $24.95
Other countries – $24.95 (7-21 days)
Types of Salute to Service apparel available for women – Pullover hoodies, sweatshirts and tee shirts.  Many women still like the Salute to Service jerseys that are available but they are only available in men's sizes.  If you know your size, then the jerseys are work checking out.  The 2016 Salute to Service jerseys are available for each team.  Typically there will be one or two available for each team showcasing their most popular star players.
Women's sizes available – S, M, L, XL, 1X, XXL, Plus 2X, 3XL, Plus 3X, 4X, Plus 4X.
Shop Women's Salute to Service Apparel at Fans Edge Sports
Other companies that we are affiliated with that we recommend :
Sports Fanatics
Return policy – 1 Year no hassle returns
Delivery fee – $5 flat rate fee on most orders.  A few large size items will cost extra.
International delivery options? – Yes
Women's sizes available – XS, S, M, L, XL, Plus 1X, XXL, 3X, 4X
Shop Women's Salute to Service Apparel at Sports Fanatics
NFL Fan Shops
Return policy – 60 days
Delivery fee – $5.99 for most orders.  Shipping is weight based and if the order exceeds a set weight, there will be a slightly higher fee than the $5.99 flat rate for orders under the weight limit.
International delivery – Yes
Types of women's NFL apparel available – Women's tank tops, tee shirts, hoodies, jackets, jerseys.
Shop Women's Salute to Service and NFL Plus Size Apparel at NFL Fan Shops
Women's 2016 Salute to Service Tee Shirts and Hoodies available for the following teams :
Arizona Cardinals
Atlanta Falcons
Baltimore Ravens
Buffalo Bills
Carolina Panthers
Chicago Bears
Cincinnati Bengals
Cleveland Browns
Dallas Cowboys
Denver Broncos
Detroit Lions
Green Bay Packers
Houston Texans
Indianapolis Colts
Jacksonville Jaguars
Kansas City Chiefs
Los Angeles Rams
Miami Dolphins
Minnesota Vikings
New England Patriots
New Orleans Saints
New York Giants
New York Jets
Oakland Raiders
Philadelphia Eagles
Pittsburgh Steelers
San Diego Chargers
San Francisco 49ers
Seattle Seahawks
Tampa Bay Buccaneers
Tennessee Titans
Washington Redskins
2016 Salute to Service Jerseys are available for :
Note : Each team will have a different player and many teams will have two players to choose from.  More players will be added.  These are the first players that we have seen so far.  More are still to be released and we will let you know as soon as we do!
Arizona Cardinals
Atlanta Falcons
Baltimore Ravens
Buffalo Bills
Carolina Panthers
Chicago Bears – Alshon Jeffery
Cincinnati Bengals
Cleveland Browns
Dallas Cowboys
Denver Broncos – Von Miller
Detroit Lions
Green Bay Packers – Aaron Rodgers, Clay Mathews
Houston Texans
Indianapolis Colts
Jacksonville Jaguars
Kansas City Chiefs
Los Angeles Rams – Tavon Austin
Miami Dolphins
Minnesota Vikings – Teddy Bridgewater
New England Patriots – Rob Gronkowski, Tom Brady, Julian Edelman
New Orleans Saints
New York Giants
New York Jets – Darrelle Revis
Oakland Raiders – Amari Cooper, Derek Carr
Philadelphia Eagles
Pittsburgh Steelers – Antonio Brown, Le'Veon Bell
San Diego Chargers
San Francisco 49ers
Seattle Seahawks – 12th fan, Richard Sherman, Russell Wilson
Tampa Bay Buccaneers
Tennessee Titans
Washington Redskins